Is it better to pay a ransom for hostages, or stage a rescue?
(Read article summary)
The Sahel region of Africa has seen many hostage crises in recent years, staged by a local branch of Al Qaeda, and hostages' home countries have had to make difficult decisions.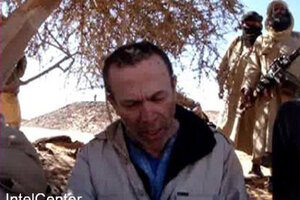 Reuters
Last week I compiled a list of hostage crises in the Sahel (specifically Mali, Mauritania, and Niger) involving Al Qaeda in the Islamic Maghreb (AQIM). I have since found another list (including kidnappings that had nothing to do with AQIM). These pieces give some background for a running debate about whether it is better to pay ransoms to AQIM for hostages or to attempt to rescue hostages by force. The ultimate question for me is how to move beyond the rescues vs. ransoms dilemma, a topic I will address in the next (and hopefully final) installment of this series. In the meantime, looking at the ransoms vs. rescues question raises key issues concerning patterns in kidnappings and the expansion or stagnation of AQIM.
I agree that hostage situations should be taken case-by-case, but I generally support paying ransoms in the Sahel. No one wants to negotiate with Al Qaeda franchises, but some European and Sahelian governments have made the tough decision to do so and have succeeded in getting hostages released. Assuming rumors that Spain and Switzerland have paid ransoms are true, I am in line with their approach, and less in line with the recent French approach. For me, the decisive argument is that the ransomed hostages escaped alive.
---