Somalia transitional parliament extends term three years, prompting criticism
(Read article summary)
The vote of Somalia's transitional parliament to extend its term may damage its international credibility and undermine support in the West.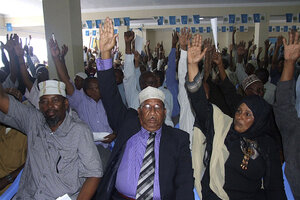 Mohamed Sheikh Nor/AP
On Thursday, Somalia's parliament voted to extend its term by three years. The move is of questionable legality and has evoked criticism from Somali clan elders and from the UN, the US, and the UK.
UN:
"This is a disappointing decision taken in haste without the required level of discussion and consultation on how to end the transition," the UN's special representative for Somalia, Augustine Mahiga, said.
US:
"Our concern is that the international community has urged the Somali government to consult very wisely with Somalis – including those in the diaspora – and their international partners to find a way forward," said Matt Goshko, public affairs officer at the US Embassy's Somali affairs unit in Nairobi, Kenya.
---