West Africa Rising: Latin American leaders bolster ties to Africa at World Social Forum
(Read article summary)
As economies boom on both sides of the South Atlantic, analysts say new lines are being sketched between Africa and Latin America.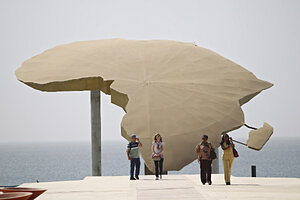 Rebecca Blackwell/AP
• West Africa Rising is a weekly look at business, investment, and development trends.
Latin America and Africa must defy the flow of global commerce by trading and forming closer ties, former Brazilian President Luiz Inácio Lula da Silva told African leaders Monday at the World Social Forum in Dakar, Senegal.
It's a message the center-left leader has delivered before on the 12 tours of Africa he took during his eight years in office, which just ended with the close of 2010.
"In the 29 African countries I visited as president, I've been struck by the vitality with which Africa is taking control of its destiny," he said. "I have the conviction in my heart that in the world that is coming into being, Africa has more relevance than ever to developing nations."
Think you know Africa? Take our geography quiz.
Since 2003, Brazil has doubled its Africa embassies and multiplied trade with the continent five-fold, making it "the tip of the spear in terms of Latin American engagement with Africa," says Anne Frahauf, an Africa analyst with the Eurasia Group consulting firm in New York.
---