South Africa's Jacob Zuma slammed for saying ANC voters will go to heaven
(Read article summary)
South Africa's President Jacob Zuma finds himself the center of controversy again, this time for saying that those who vote for his African National Congress (ANC) party will go to heaven.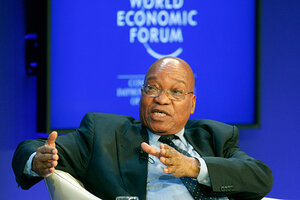 Michel Euler/AP
Thursday is supposed to be the most important day on South African President Jacob Zuma's political calendar.
But as he prepares to take center stage for his State of the Nation address tomorrow night, the controversy-prone African National Congress (ANC) leader is fending off harsh criticism from a wide variety of groups over comments he made at a recent political rally.
"When you vote for the ANC, you are also choosing to go to heaven," he told the crowd. "When you don't vote for the ANC you should know that you are choosing that man who carries a fork ... who cooks people. When you are carrying an ANC membership card, you are blessed. When you get up there, there are different cards used but when you have an ANC card, you will be let through to go to heaven."
First to criticize his comments was South Africa's main opposition party, the Democratic Alliance.
"His words are incendiary and dangerous, in that they seek to mobilize along religious lines, and sow seeds of division in our communities," said spokesman Lindiwe Mazibuko. "Indeed, this is an act of shameless political and religious blackmail – the sort of political skulduggery that may be the norm in autocracies, but that should be anathema to our constitutional democracy."
---
Follow Stories Like This
Get the Monitor stories you care about delivered to your inbox.