Five African stories you may have missed during Egypt's revolt
(Read article summary)
Street protests in Gabon, a punishing stalemate in Ivory Coast, a coming election in Uganda: there is plenty of news even as Africans remain glued to the Egypt revolt. Some of it may affect the price of your next steaming cup of cocoa.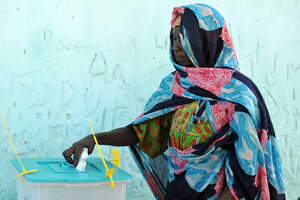 Newscom
Johannesburg, South Africa
After 18 days of being glued to their television sets, radios, and smartphones, watching the Egyptian citizenry kick out there long-ruling leader, Africans finally opened newspapers this week to find that there was crucial news closer to home.
Here are five countries to watch closely:
In South Africa, on Thursday, President Jacob Zuma announced a new priority for his government: creating jobs. Meanwhile, a massive trucking strike began on Monday, threatening to bring the retail and manufacturing economy to a halt.
South Africa is the continent's strongest and most developed economy, and a natural base for foreign investors interested in getting a foothold in the rapidly growing resource-rich economies of sub-Saharan Africa. But despite this attraction, there are problems that give foreign investors cause for concern.
For one, strikes are plentiful, and strikers enjoy the at-least ideological support of the ANC government, which includes top leaders of the umbrella labor group, Congress of South African Trades Unions (COSATU), in its ruling alliance and in the cabinet of President Jacob Zuma. A country that honors labor rights is good. A country that is regularly brought to a halt over wage issues is harder for investors to love.
---