Sudan Now group lays out 'road map' for peace in Darfur
(Read article summary)
While the world focuses on South Sudan's moves toward independence, the Sudan Now advocacy group is pushing a new plan for peace in Darfur.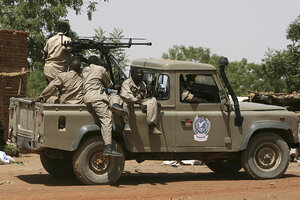 Nasser Nasser/AP
A new proposal for a Darfur peace process is out, courtesy of the Sudan Now campaign.
With international attention focused almost exclusively on the North-South dynamics ahead of the southern referendum, conditions in Darfur have deteriorated with little attention. Amid recent aerial bombardments by the Sudanese Armed Forces and fresh clashes between various rebel groups and the Sudanese army, backed by government-supported militias, civilians in Darfur have been displaced en masse – often multiple times. Meanwhile, a peace process hosted by the Qatari government has been ongoing, but its inability to translate into meaningful stability on the ground in Darfur is stark.
"A Roadmap for Peace in Darfur" puts forth three essential components of an effective plan. See the full report for details, but in summary, the three points include:
High-level political negotiations outside of Sudan between the various parties to the conflict,
Civil society engagement with Darfuris inside and outside of the country.
High-level coordinated diplomatic engagement to push for democratic transition in North Sudan in support of human and civil rights in the region.
Notably, the report comes out strongly against the Sudanese government's position that a renewed peace process should be hosted exclusively inside Sudan:
---