South Sudan's accusations of northern interference stoke tensions
(Read article summary)
South Sudan's charges that Khartoum is arming rebel movements to destabilize the future independent country could further strain between the historic rivals.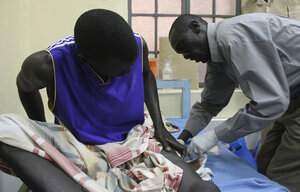 Maggie Fick/AP
It's a gross understatement to say that Sudan's North and South have a lot of details to sort out before July, when the oil-rich South breaks away and forms the world's newest country. In recent news coverage in the aftermath of the south's independence vote last month, there have been many references to the laundry list of crucial questions that must be addressed in negotiations between the south's ruling Sudan People's Liberation Movement and the National Congress Party in Khartoum. Borders, oil, debt, water, citizenship... suffice it to say, these talks won't be easy and are likely to be fraught with at least some degree of contention and mistrust, despite the successful and peaceful referendum process concluded last month.
For this simple reason, the comments this week of the secretary-general of South Sudan's ruling party at two separate news conferences in Juba, the South's capital, are concerning. On Tuesday and Wednesday, Pagan Amum, who is also the South Sudan government's Minster of Peace and Comprehensive Peace Agreement (CPA) Implementation, pointed his rhetorical finger directly at Khartoum for their role in sponsoring several southern militia groups opposed to the southern leadership and the army.
"It is common knowledge that all the militia groups are receiving armaments and financing and support from circles within northern Sudan," Amum told reporters on Wednesday in Juba.
"This is a strategy to destabilize Southern Sudan, I'm sure this will fail, the people of Southern Sudan are so united as you've seen in the referendum," he added, as if to counter the argument that an attack on a southern town by one of these militia leaders last week in volatile Jonglei state was completely unrelated to simmering tensions within the south.
---