In Africa, reporters face ethical questions when reporting on rape
(Read article summary)
In light of this week's sentencing of a Congolese military officer for sexual violence, correspondent Jina Moore discusses the many gray areas of reporting on rape in Africa.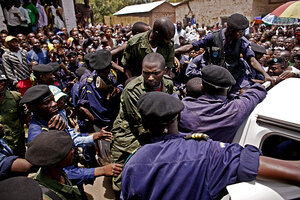 Pete Muller/AP
But first, a quick news update: A Congolese colonel is going to jail for his sex crimes. It's the first such conviction – and about time. Two thousand people attended the verdict and sentencing, and 49 women had braved testifying against him in court, according to the BBC. I applaud you all.
If you're a regular reader, you've probably noticed by now that I write a lot about rape, in particular how journalists cover it. This surprises the me-of-five-years-ago. Then, I was in grad school with brilliant, fiery feminists who would have had a lot to say about this question if we'd ever had a class on it. I had virtually nothing to say about "that woman's issue," then... and sometimes felt like less of a woman (and certainly less of a feminist, if I even felt like that confusing f-word at all) because of my empty brain.
But in the intervening years, I've covered countries where you can't get away from rape -- or at least from its legacy. I spend a lot of time in post-conflict Africa, and in very nearly every country I've reported in, there's a local variation on the "rape as a weapon of war" story. I've found myself puzzling through awkward systems of journalism logic. In Sierra Leone, for a story about a new precedent in international humanitarian law, I talked for hours with women who were gang-raped, or once-raped, or raped by the same man with different objects, and any other variation you can imagine. I'd been told this topic was sensitive, even urged by well-meaning NGO folks not to ask about it. But as soon as I had the introduction out of my mouth -- "I'm a journalist writing about forced marriage during the war" – they interrupted me to start telling their stories. I was young, confused, overwhelmed, but slowly, I realized these were women who hadn't been heard before.
---