Libya's mercenaries pose difficult issue to resolve
(Read article summary)
Muammar Qaddafi is likely relying heavily on African mercenaries, but if Libya falls to the anti-Qaddafi protesters, they're the ones who will have to figure out what to do with them.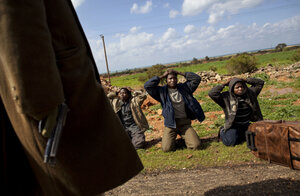 Kevin Frayer/AP
As anti-Qaddafi forces in Libya take control of different parts of the country, I think it is more accurate to call the events there a civil war, rather than simply "protests." One contentious issue in this civil war is Qaddafi's use of mercenaries from elsewhere in Africa. As the situation in Libya rapidly evolves, determining who the mercenaries are – and who is not a mercenary – has challenged both observers and the anti-Qaddafi forces. It seems clear that there are foreign mercenaries fighting in Libya, but it also appears that some innocent sub-Saharan African migrants have found themselves in danger over false charges. This post gives some background on the situation.
Historically, Qaddafi has long used mercenaries as advisers and soldiers. African poverty has created a substantial pool of potential mercenaries, and it is likely Qaddafi is now using some of these hired guns against his own people.
Foreign mercenaries are likely to be less squeamish about shooting at local people.

"They are likely to better trained – a small unit that can be relied upon. They might also have experience of fighting battles and therefore be more capable if push comes to shove," [said author Adam Roberts].

The view was echoed by Reed Brody of Human Rights Watch. "It's hard to get your own people to shoot your own people," he said. "In this kind of situation, you can see why mercenaries would be an advantage because it's easier to get foreigners to shoot at Libyans than to get Libyans to shoot at Libyans."
---