As world focuses on Libya, more than 100 killed in Sudan border town
(Read article summary)
This week's attacks underscore how the disputed, oil-rich border town of Abyei has been used as a lightning rod by political leaders in both northern Sudan and soon-to-be independent South Sudan.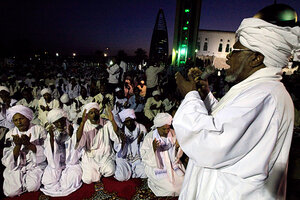 Mohamed Nureldin Abdallah/Reuters
A series of attacks that began Sunday in Abyei, Sudan's hottest north-south flashpoint border town, have left more than 100 dead, again raising the prospect of a less-than-amicable breakup of Africa's largest country when South Sudan officially secedes this July.
The United Nations peacekeeping mission in Sudan confirmed Thursday that approximately 300 women and children had fled the disputed, oil-rich border town of Abyei since Wednesday night. These residents headed south toward safety, fearing further militia attacks like one on Wednesday some 10 miles north of Abyei that killed more than 30 pro-southern police and Ngok Dinka men who took up arms to defend the village of Maker Abyior.
The Wednesday attack came on the heels of a series of attacks earlier in the week on villages north of the town of Abyei. The spokesman of the southern Sudanese army said Wednesday that more than 70 people were killed in these attacks.
The UN mission said that their staff in Abyei witnessed a mass burial on Wednesday night of 33 fighters from the attacks, many of them wearing police uniforms.
The latest violence is not an unfamiliar experience for the people of Abyei, nor is it surprising. The unresolved fate of this contested border region – which has been the subject of high-level political negotiations, protracted international court hearings, and intense global interest – has stoked tensions on the ground between the two groups that are forced to share and coexist on land that they both consider to be their own.
---