Rebel leader's attacks don't bode well for South Sudan
(Read article summary)
George Athor, leader of a rebel militia in South Sudan, has broken his ceasefire with South Sudan's military, fracturing the future country at the time it most needs to be unified.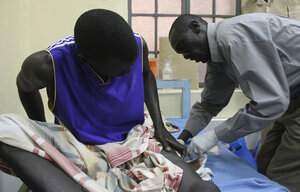 Maggie Fick/AP
George Athor, a former lieutenant-general in the Sudan People's Liberation Army (SPLA, the military wing of South Sudan's ruling party, the SPLM), defected from the SPLM during last year's election season. Athor "felt overlooked when the party nominated candidates for last April's presidential and legislative elections. He stood as an independent for the governorship of the south's swampy Jonglei state and lost to SPLM incumbent Kuol Manyang." Following his defeat at the polls, he and his men began attacking SPLM targets.
On the eve of this year's referendum in January, Athor signed a ceasefire with the SPLM. Now that the referendum is over, Athor has broken the ceasefire. "Fighters loyal to Athor captured the town of Fangak in Jonglei on Feb. 9 and attacked an SPLA base," killing some two hundred persons. The Economist's Baobab blog commented that the attack "bodes ill for the soon-to-be created country. In fact, this may be the single worst bit of news since the referendum." The author added
The greatest threat to the creation of a state of South Sudan comes from internal conflicts. The civil war with the north, where the central government is based, ended in 2005 and while fighting has flared up on occasion, the peace has held overall. At the same time, tensions between the various armed groups inside the south have remained high. The South Sudanese are perhaps their own worst enemies.
Grim predictions about internal conflict in South Sudan received further corroboration this week when Athor's rebels clashed with the SPLM again.
---