As Ivory Coast fighting escalates, window for talks narrows
(Read article summary)
An African Union panel is to meet Wednesday about Ivory Coast's crisis. Supporters of President-elect Alassane Ouattara and former President Laurent Gbagbo are clashing, and pro-Ouattara forces have taken control of several towns along the Liberian border.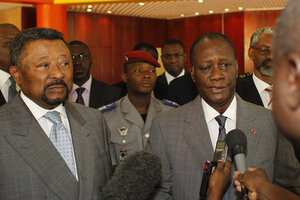 Rebecca Blackwell/AP
Johannesburg, South Africa
A panel of five African presidents, delegated by the African Union to run a fact-finding mission on the looming crisis in Ivory Coast, is due to arrive in the AU headquarters in Addis Ababa on Wednesday, presumably to meet with the leaders of the opposing sides and to report their findings.
It is not certain whether either President-elect Alassane Ouattara or former President Laurent Gbagbo will attend the meeting. Mr. Ouattara has spent the last three months holed up in the Golf Hotel in Abidjan, protected by a few hundred UN peacekeepers and surrounded by pro-Gbagbo forces.
Yet while the AU panel still officially continues to talk of looking "forward" toward a negotiated settlement, including a possible powersharing deal between Ouattara and Mr. Gbagbo, fighting on the ground and massacres of civilians in urban areas may be rapidly closing the window for negotiation.
Think you know Africa? Take our geography quiz.
Over the weekend, videos of the shooting of pro-Ouattara women protesters by pro-Gbagbo military trucks spread through social networks like Twitter and Facebook, and over the video-sharing site YouTube. Separate videos of the pro-Gbagbo youth militia "Young Patriots," apparently burning alive suspected Ouattara supporters at a checkpoint, in full view of Ivorian police, also emerged, indicating that security conditions in Abidjan continue to deteriorate.
---