Who are Libya's sub-Saharan Africans?
(Read article summary)
Libya's sub-Saharan African population has gotten a lot of attention. They're not all mercenaries and they aren't just from one or two places.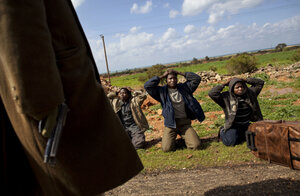 Kevin Frayer/AP
The ongoing discussion about sub-Saharan Africans in Libya often lacks precise numbers, terms, and categories. Libyans are by definition Africans, as are other North Africans who live in Libya. But bloggers and journalists have been talking about sub-Saharan Africans in Libya in different ways than they've been talking about North African populations there. The reason for making the distinction is that the experiences of some groups seem to in fact be distinct, and those particularities have political implications. It is good to make these distinctions, but we need to make them very carefully.
Put more concretely, who are the foreign workers in Libya? What are the experiences of refugees from sub-Saharan Africa? Migrants? Students? Refugees? The fuzziness of terms and categories on the one hand, and the scattered numerical data on the other, make talking about these issues difficult, and in some cases have helped set up distorted narratives about ruthless "African" mercenaries, "racist" Libyans, or "African" migrants. This post doesn't tackle the terminology problem, but rather tries to help clarify the situation of sub-Saharan Africans in Libya by compiling some of the numbers floating around in the reporting. Examining the numbers will help identify trends and highlight differences.
---