Just what did South Africa's Zuma tell Qaddafi in a phone call?
(Read article summary)
Conflicting reports about what South African President Jacob Zuma said to Libyan leader Muammar Qaddafi highlight South Africa's comparatively docile response to Qaddafi's violence against rebels.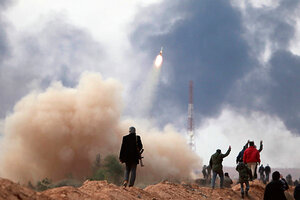 Asmaa Waguih/Reuters
Johannesburg, South Africa
The story came up on Libya's state-owned television station, so consider the source.
Jacob Zuma, president of South Africa, reportedly called up Libyan leader Muammar Qaddafi to offer moral support. He promised to bring up the plight of Libya – now in the throes of a near civil war – to the African Union and to urge the AU to "take decisive action and uncover the conspiracy that Libyan is facing."
From Libyan TV, the report made its way onto the BBC Monitoring service, and from there it made its way onto South African news websites and social media services like Twitter, where South Africans talked of the "embarrassment" of a president throwing in his support for a one-party state dictator like Qaddafi.
---