Niger's democratic transition starting off well, but challenges remain
(Read article summary)
Successful elections signal that Niger's democratic transition is going well, but incoming president Mahamadou Issoufou will face a number of challenges: drought, famine, and Libya fallout, to name a few.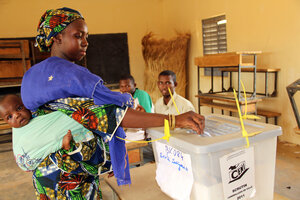 Tagaza Djibo/AP
Niger's transition back to democracy is earning high praise in the international press and is already paving the way toward a normalization of relations between Niger and outside powers like the African Union and the European Union. Niger has conducted successful elections and, with the concession of the losing candidate, is preparing to hand power from the military leadership to newly elected President Mahamadou Issoufou. Issoufou's high margin of victory and his opponent's graceful concession will give the new president broad legitimacy and a solid mandate to lead Niger forward.
The people and the leaders of Niger deserve to take a great deal of pride in how the transition has gone. But Issoufou will enter office with tremendous challenges in front of him and the country. His job will not be easy. Here are four areas where he, and all Nigeriens, will face difficult tasks:
1. Famine and Drought
---
Follow Stories Like This
Get the Monitor stories you care about delivered to your inbox.