High-level defections, UN sanctions signal possible end for Ivory Coast stalemate
(Read article summary)
A top Ivorian general has sought refuge with South African embassy, and forces loyal to President-elect Alassane Ouattara have reached outskirts of Abidjan. Will renegade President Gbagbo fight to the bitter end?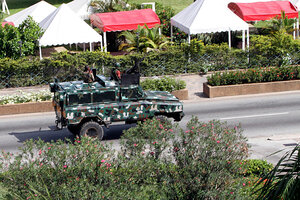 Luc Gnago/Reuters
Johannesburg, South Africa
Ivory Coast's army chief, Phillippe Mangou, has taken refuge at the residence of the South African ambassador in the country's main city, Abidjan.
The move – coupled with the defection of the country's senior general in charge of the police, Gen. Edouard Kassarate – is a crushing blow to renegade President Laurent Gbagbo, whose refusal to relinquish power since the Nov. 28 election has sparked a return to civil war in the West African country.
Together with fresh United Nations sanctions against Mr. Gbagbo's regime, the defections could mean the long and deadly political stalemate between Gbagbo and President-elect Alassane Ouattara may finally be drawing to a close.
Forces loyal to Mr. Ouattara – the recently renamed Republican Forces of Ivory Coast (FRCI) – have taken control of the key port city of San Pedro and the nation's official capital, Yamoussoukro. They are also pressing into new neighborhoods of the country's main city, Abidjan. Rumors that Mr. Gbagbo himself had taken refuge with the South African Embassy are rife, but were denied by South African officials.
---