A colonial pastime struggles to survive in Nairobi
(Read article summary)
Horse racing, a favorite pastime of Kenya's white elite in the colonial era, is struggling to make a comeback in post-colonial Nairobi.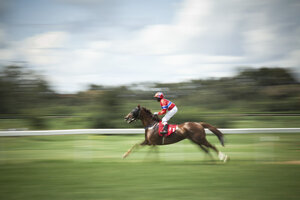 Brendan Bannon
This post is part of the Daily Dispatch project chronicling life in Nairobi, Kenya throughout the month of April.
Henry Muya is angry. A year of dawn training runs, a year in the saddle slowly coaxing the best from his horse, a year of preparing for this race on this day, all for nothing.
Three false starts to the biggest event in Nairobi's racing calendar, The Kenya Derby spooked Ngobi, his horse. He was among the last out of the stalls, failed to pick up position on the back straight, and flew over the line 2,400-meter later, clumped up in the pack several slots off the money.
"Inside, I'm gutted, I'm torn apart, all the hard work it takes to come to this," the 26-year-old jockey said after the race, still in his jodhpurs, sweat still sticking his hair to his frowned forehead.
"So many horses lost their form in that race, those stalls are too old, they let horses break free when the rest of us were kept back. Everyone was hyped, the horses were hyped, we needed to start well."
The stalls he's talking about have seen better days. Until recently, many might have said the same about Kenya's horseracing.
Brought to the country when it was a British colony, and a favored pastime for the former white elite here, the sport had been facing a slow decline from its heyday 30 years ago.
But now things are changing down at the Ngong Racecourse, the last track left in Kenya, set in 310 forest-side acres in the city's west.
---