Why moves to cut off Gbagbo's funds couldn't prevent war in Ivory Coast
(Read article summary)
President-elect Alassane Ouattara's plan was to rally the international community to cut off Ivory Coast's finances so renegade incumbent President Laurent Gbagbo would be forced to surrender.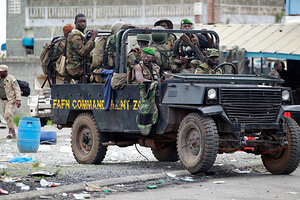 Rebecca Blackwell/AP
Ivory Coast may be hours from the end of a conflict that was never supposed to be fought.
Incumbent President Laurent Gbagbo's government is negotiating a surrender, according to his spokesman. His three top generals have all turned themselves in to the United Nations after UN helicopters attacked their arms depot and several other positions. And Mr. Gbagbo himself is – as of this writing – sitting in a bunker below the presidential residence, which has been taken by opposing troops.
Hundreds have died in the past week as forces loyal to President-elect Alassane Ouattara launched a lightning offensive against Gbagbo's forces after waiting more than four months for a political solution that never came.
But why did it come to this? Gbagbo was supposed to be forced out long ago, after coordinated efforts to block the money he needed to fund his military support.
When Gbagbo refused to accept defeat after the Nov. 28 election, preferring instead to deploy soldiers and militia onto the streets of the country's main city, Abidjan, Mr. Ouattara could have called on the support of the country's rebel armies based in the north. Instead, the former International Monetary Fund economist called the Central Bank.
---