War in western Ivory Coast could outlast presidential battle in Abidjan
(Read article summary)
Forces loyal to both sides in Ivory Coast's presidential dispute recently attacked civilians in ethnically motivated killings in the country's west, according to a report by Human Rights Watch in New York.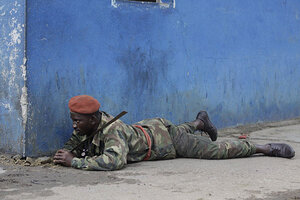 Rebecca Blackwell/AP
Fighting in Ivory Coast's rural west may outlast the deadly urban battle for the presidency underway in the top cocoa producer's main city, Abidjan.
Soldiers backing Alassane Ouattara, the internationally-recognized president of the divided West African nation, killed hundreds of civilians, raped at least 20 more, and burned 10 villages in western Ivory Coast, Human Rights Watch said this weekend in an e-mailed report.
Those soldiers summarily executed and assaulted non-combatants from ethnic groups loyal to his rival, incumbent President Laurent Gbagbo, as they entered western Ivory Coast towns during a March offensive to dislodge the incumbent from power, the New York-based humanitarian group's report said.
The report cited more than 120 witnesses to rapes and murders. It also accused soldiers loyal to Mr. Gbagbo for killing more than 100 civilians, including children, last month – most of them farmers from Ivory Coast's north or from northern neighbors, like Mali or Burkina Faso.
Gbagbo has refused to acknowledge results from a Nov. 28 election that showed he lost to Ouattara in the nation's first free and full election since the nation's 2002 civil war. He remains ensconced in a bunker below his residence in Abidjan.
Even if he comes out, Ivory Coast's west is likely to remain a center of violence, Human Rights Watch researcher Matt Wells, the author of the report, said in a phone interview.
---