Kenya revives its colonial rail system to meet its modern needs
(Read article summary)
A private company sees the country's dilapidated railways as an opportunity to make a profit and meet Kenyans needs for faster transportation.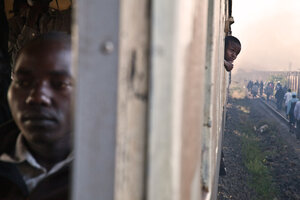 Brendan Bannon
This post is part of the Daily Dispatches project chronicling life in Nairobi, Kenya throughout the month of April.
ON THE 06:40am TO NAIROBI – We pull slowly out of Athi River station, leaving behind the run-down railroad shed that is now home to the Jesus Victory Center and a tinshack kindergarten.
Ahead, an hour-long commute, through the Athi plains once swarming with wildlife, beneath final approach to the international airport, through the smoggy iron roof slums and the industrial area, and into the heart of Nairobi.
"Ah, we love this thing," smiles Steve Nyahe, 40, a graphic designer, who like most aboard the train used to have to sit cramped in a 14-seat "matatu" minibus taxi to town, stalled in jams and pollution, for two hours or more.
"She keeps time, she takes me to work in less than one hour, she's cut my travel costs by 50 percent. Who can complain?"
The 6:40 a.m. from Athi River, 17 stops into Nairobi, is one of a raft of new peak time services to and from the city, more than doubling the total from 8 to 18 since March 1.
Passenger numbers have jumped 45 percent since then, to 716,922 last month, according to the privatized firm now running Kenya's railroads.
More than 2,300 of them use the Athi River service each day – the equivalent of more than 164 squeezed minibus taxis.
Onboard the 6:40 a.m., Patricia Wachira, a customer services executive for an agrochemicals company, sat reading her Bible, the early morning sun streaming through the windows.
---