Nairobi's middle class drives construction surge, with mixed reviews
(Read article summary)
The demand for housing is high, but without an urban plan or building code, the construction boom could have some negative long-term consequences.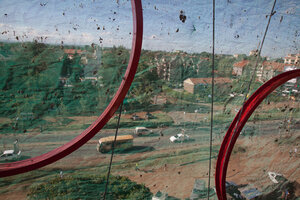 Brendan Bannon
This post is part of the Daily Dispatches project chronicling life in Nairobi, Kenya throughout the month of April.
Mike Pflanz offers a personal view on Nairobi's construction boom, and what it could mean for the city's future.
The face of this young city is undergoing radical plastic surgery. In what the media here never fail to call "the leafy suburbs," 1930s stone-built bungalows behind manicured hedges are being torn down and multistory apartment blocks rising high in their place.
Out on the upgraded highways snaking into the city, red tiled roofs stretch across acres of what was once empty grassland tended only by Masai cattle.
Malls are morphing from charming clusters of family owned grocers and butchers, where everyone knows your name, into many outlet monoliths to Mammon.
At well-to-do dinner parties, this is a constant topic of slightly disapproving conversation. Think of all the traffic. Have they upgraded the sewer pipes and the water supply? How will the electricity grid cope with all this extra demand?
For Nairobi's mushrooming middle class, however, that's beside the point. They have money (credit?) to spend, and developers are answering their call. In one five mile stretch leading from the city's west towards its center, there are now seven major shopping centers. Branch a mile off that road, there're three more.
Two malls are brand new. Others are undergoing significant upgrading, more than doubling their outlets, bringing in casinos, smart new restaurants and cafes, high-end shops.
It's not just the shopping. Demand for decent housing for the increasing numbers of salaried staff, the people jamming the malls each weekend, has far outstripped supply.
---