High fuel prices underpin Uganda protests, test Museveni government
(Read article summary)
Two months after Ugandan President Yoweri Museveni's decisive election victory, high fuel costs are prompting Ugandans to take to the streets, writes Ugandan journalist Rosebell Kagumire.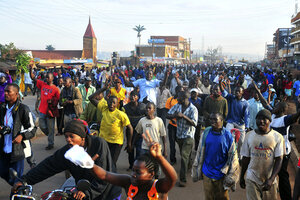 Ronald Kabuubi/AP
Ugandan police have again arrested three opposition leaders as they tried to continue the Walk to Work protest campaign. The campaign was started by a group called Activists for Change protesting the high fuel prices. They called for protests every Monday and Thursday for a month, in which Ugandans would peacefully protest while walking to work.
On April 11, top opposition leader Kizza Besigye, Norbert Mao, and other opposition parliamentarians were blocked from walking to their offices, arrested and later charged with inciting violence and disobeying lawful orders.
Earlier this week, UPC's Olara Otunnu and several other Ugandans from different political parties joined the protest.
Think you know Africa? Take our geography quiz.
For the first time, Uganda's opposition moved beyond the politics of attacking President Yoweri Museveni and chose an issue that concerns most Ugandans. The high fuel prices have driven food prices up and many of Uganda's urban poor can hardly afford a meal.
The police blocked the protests before they began, and their brutality was once again on display as they arrested the politicians.
In the northern city of Gulu, three people died from bullet wounds when the government ordered the military to come in to stop Mr. Mao from walking in the streets of Gulu. The brutality with which the government reacted to Ugandans expressing themselves brought back the sound of the gun to Gulu, a place that for more than 20 years was the epicenter of the brutality of both rebels and government soldiers in the deadly war on Lord's Resistance Army.
---