Africa election outlook: Key issues in 6 upcoming elections
(Read article summary)
The next two weeks will include a slew of elections on the African continent. Guest blogger Alex Thurston takes a look at the issues at play in some of the polls.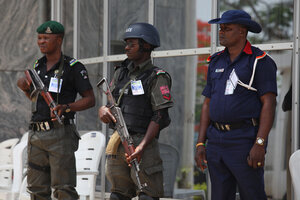 Sunday Alamba/AP
As VOA reminds us, "over 30 African countries [are] scheduled to hold parliamentary and presidential elections this year," and some sixteen countries have already held their votes. A few weeks ago, I looked at the electoral pictures in Djibouti, Nigeria, Benin, Mauritania, and Chad. One of those elections has completely concluded: on April 8, Djibouti re-elected President Ismael Guelleh to a third term (more here). This post looks at how elections in the other countries (and in North Sudan) are proceeding.
Here's the updated electoral calendar:
April 25: Presidential elections in Chad
April 26: State elections and some (previously delayed) legislative elections in Nigeria
April 30: Parliamentary elections in Benin
May 2: State elections in North Sudan's South Kordofan State
Unknown: Partial Senate elections in Mauritania
Here is an outline of the major issues at stake in each country:
Chad
---
Follow Stories Like This
Get the Monitor stories you care about delivered to your inbox.