South Sudan's rebel movements and their leaders
(Read article summary)
Rebel movements in South Sudan that have clashed with the South Sudanese army pose a greater threat to the fledgling state than even aggression from northern Sudan.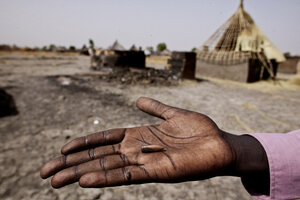 Pete Muller/AP
The world's soon-to-be newest country, South Sudan, faces a number of challenges, including severe under-development and tensions with North Sudan on border demarcation, oil revenue-sharing, and others issues. But it is the growing challenge from rebel groups that most threatens the political stability of the new state. Several rebel movements have clashed with the troops of the ruling Sudan People's Liberation Movement (SPLM, and the army is called SPLA). It does not seem likely that these rebel groups can topple the SPLM, but they are making life difficult for the leadership in Juba.
Here is an overview of two important leaders, George Athor and Peter Gatdet, and their forces. I refer to various states in South Sudan: see this map for help in visualizing the geography. At the end, I offer a few thoughts on what these rebellions mean for South Sudan.
George Athor and the South Sudan Democratic Movement
South Sudan has never been completely united under the SPLM, and the SPLM has faced rifts before, but the defection of George Athor from the SPLA in April 2010 has proven to be a serious headache for the SPLM. Athor, a former Lieutenant General within the SPLA, was angered by the SPLM's decision to nominate another man for the 2010 gubernatorial election in Jonglei State. He stood as an independent and lost. Shortly afterwards, his forces began to attack SPLA outposts in the area.
---