In final stage of election, Nigerians elect state governors
(Read article summary)
For many Nigerians, their state governors matter more to their daily life than the president or parliamentarians.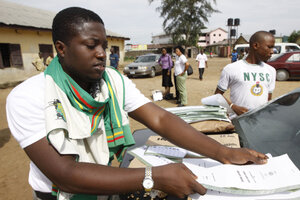 Sunday Alamba/AP
This post gives an overview of what will happen in Nigeria's state elections this week. These gubernatorial elections will conclude a three-stage electoral process that began with legislative elections on April 9 and continued with presidential elections on April 16.
Details About Dates
Today, Nigerians in 29 of the country's 36 states will cast votes for state governors. On Thursday, voters in Kaduna and Bauchi States will do the same (the elections in these two states were postponed due to the violence that followed last week's presidential elections). In the remaining five states – Bayelsa, Cross River, Adamawa, Kogi and Sokoto – elections will not take place this week "because the elections that brought the governors of the states in 2007 were flawed and new elections and governors were the results." Courts and the Independent National Electoral Commission (INEC) are currently reviewing the situations in those five states.
Details About Candidates and Parties
---