Seventeen years after freedom came to South Africa, a status check
(Read article summary)
Black South Africans cast their first votes as full citizens in 1994. How far has the country come?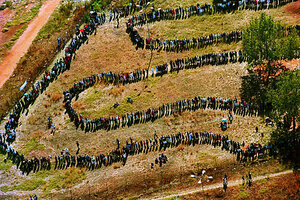 Denis Farrell/AP/File
Johannesburg, South Africa
Seventeen years ago today, black South Africans lined up to cast their first votes as full citizens in a new South Africa.
And tomorrow, when South Africans celebrate "National Freedom Day," South Africans will take stock of what 17 years of freedom have gotten them.
It's always a question of emphasis and temperament. On one hand, freedom has increased the ability of South Africans of any race or religion to choose where they want to live; given them more control over their career and education choices; and ended the racial restrictions of the apartheid government. Yet for some South Africans, this has been a zero-sum game, where increased economic or political opportunities for black South Africans means fewer of those same opportunities for the white minority.
Today's South Africa is generally more prosperous, as the end of sanctions and the expansion of South African businesses into Africa and abroad has tripled the South African economy from a $111 billion in 1990 to $354 billion in 2010, according to the International Monetary Fund. Some white South Africans may look fondly upon the "good old days" before the arrival of black majority rule, but the truth is that South Africa's white apartheid government was stone-cold broke when it handed over power to the African National Congress in 1994.
With South African holding municipal elections on May 18, this tug-of-war between optimism and pessimism has become a matter of daily headline news, and small opposition parties like the Democratic Alliance are hoping to make inroads among black voters frustrated waiting for the ANC to delivery on its promises.
---