Kenya's rising food prices hurt both buyers and sellers
(Read article summary)
Food price increases that have caused riots elsewhere in Africa have reached Kenya, and Nairobi residents don't know what to do.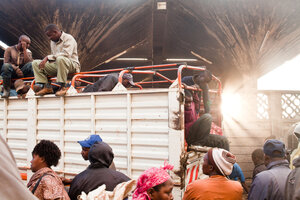 Brendan Bannon
This post is part of the Daily Dispatches project chronicling life in Nairobi, Kenya throughout the month of April.
Staple foods are twice the price they were at the start of 2011. Mike Pflanz hears how this is hurting traders and customers alike.
It is not yet dawn but Wakulima Market is chaos. Bystanders duck as men carrying 150 pound bags on their shoulders hiss past. Handcart pullers jostle for business in the fluorescent half-light. Vegetable trucks reverse blindly.
This is Nairobi's largest wholesale farmers' market. Suppliers who have often driven through the night from their fields strike deals with traders who then sell goods on to the city's supermarkets, restaurants and small-scale market stalls.
But here, those deals and those trades are in trouble. Soaring food costs caused by increasing international oil prices driven by revolutions in North Africa, and Kenya's weakening currency, are hitting these businessmen and women hard.
Elsewhere in Africa, this has caused riots. There are fears Nairobi could be next.
Bernard Kihanda comes here every morning to buy 110 pounds of watermelons, which he then loads into his truck and sells in the city's upmarket suburbs. Prices at the wholesale market are up 29 percent.
"I have to pass that cost on to my customers," he said, haggling for better prices as dawn began to lighten the sky. "Watermelons are not corn or milk, they are not essential foods. I know people will start to complain, and then where is my business?"
---
Follow Stories Like This
Get the Monitor stories you care about delivered to your inbox.