Despite Colonial Past, Kenyans Swept Up in Royal Wedding
(Read article summary)
Kenyans fought hard to get their freedom from the British empire. But when the Royal Wedding played on TV today, an estimated one in four Kenyans were following the wedding, on TV or radio.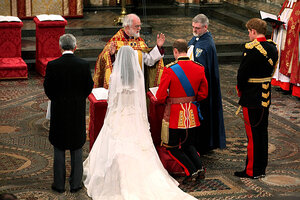 Dominic Lipinski/Reuters
You might think that a former colony, with a complicated if not downright fractious history with the United Kingdom, would thumb its nose at the royal wedding. After all, isn't the marriage of the future king and queen of England, full of extravagant pomp and circumstance, a throwback to the good old British Empire days? What Kenya broke free from 47 years ago?
But … you'd be wrong. Kenyans have caught royal wedding fever as much as the rest of the world – if not more. In a country with a population of roughly 40 million people, it's estimated as many as seven to 10 million may tune in to see Catherine Middleton, the commoner, marry William, her Prince Charming.
"It really is the ultimate fairytale wedding," says Sharleen Samat, the production manager for Nation Television, one of Kenya's privately-owned national networks. Nation, or NTV as it's commonly known, plans to devote much of the day's programming to the nuptials.
NTV's morning program "The Breakfast Show" is airing a special "royal edition," complete with a fashion show where Kenyan wedding dress designers will showcase how they would dress the regal bride. The channel will broadcast the ceremony live from Westminster Abbey. NTV's afternoon business show will focus on Kenya's booming wedding industry and examine the population's "mad fascination with weddings," says Samat.
In fact, all of the country's major television channels have royal wedding coverage plans. Viewing parties throughout Nairobi are also being held; from a luncheon at the swanky Fairmont Norfolk hotel to a public screening being staged at a shopping mall.
---