UN, Congo government try to formalize the mining industry
(Read article summary)
The plan for formalizing Congo's mining industry relies on the removal of armed groups from the process, but that is a difficult task.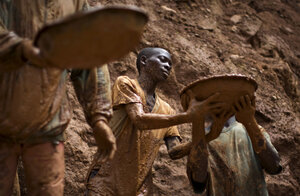 Finbarr O'Reilly/Reuters
In Enough's recent reporting from Walikale, a remote, minerals rich area of eastern Congo, we've noted in no uncertain terms that the humanitarian, security, and economic situation there is precarious. A decade after large mineral deposits were found in the region, livelihoods have become inextricably intertwined with mining – people prefer to go to the mines than to cultivate or pursue other forms of income generation, leaving communities largely dependent on basic supplies coming from Goma. The benefits of Walikale's minerals are vast, but they fail to trickle down to the local population.
Several initiatives are underway to try to formalize Congo's mining sector, with various stakeholders involved in each. Coordination and harmonization of efforts will be a major challenge to declaring Congo's minerals conflict-free.
One of the most promising initiatives for formalizing the mining industry is the establishment of centres de negoce, or trading centers. The United Nations mission in Congo, or MONUSCO, in conjunction with the Congolese government, is backing the construction of five trading centers in the Kivu region, two of which are located in Walikale territory, one near the massive – and notorious – Bisie mine and another in Itebero, about 45 miles from Walikale town.
Here's how the process should work:
---