Nairobi improving its crime fighting record, but few notice
(Read article summary)
Nairobi has developed a reputation for theft and robbery that has been difficult for police to combat, despite a decline in many types of crimes.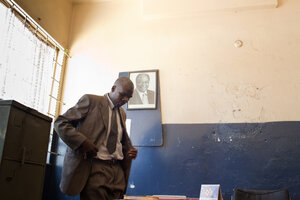 Brendan Bannon
This post is part of the Daily Dispatches project chronicling life in Nairobi, Kenya throughout the month of April.
Nairobi has long struggled to shake off the nickname Nairobbery, but Mike Pflanz discovers during a day with a CID detective that most crime figures are falling.
Behind the frosted glass door of an empty office in one of Nairobi's largest banks, Corporal Patrick Simiyu is quietly meeting a source.
In February, hackers broke through the Cooperative Bank's online security and illegally transferred half-a-million dollars from customers' accounts onto 480 cellphones hooked up to Kenya's mobile money scheme, M-Pesa.
When they began withdrawing the cash, computer alerts sounded.
Since then, Mr. Simiyu, 41, has painstakingly been building his case. Trawling records from the phone company, running surveillance on suspects, and partnering closely with the bank's own investigations team, today he's close to an arrest.
"These kinds of electronic crimes, they are something new, something I've only really started seeing in the last four or five years," he told me earlier, in his dimly-lit office at Nairobi's Criminal Investigations Division headquarters.
---