UN to review Sudan's human rights record
(Read article summary)
The UN Human Rights Council reviews member states' records every four years. Sudan is up for review in 2011, giving the US and partners an opportunity to demand improvements.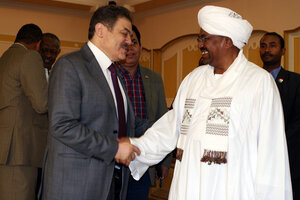 Mohamed Nureldin Abdallah/AP
Sixteen states are coming before the United Nations Human Rights Council for a review of their human rights records. The exercise, known as the Universal Periodic Review, brings forward a UN member state once every four years for a conversation about the human rights situation in its country. Among those scrutinized this week is Sudan, a country whose regime has shown little interest in the protection and respect of the human rights of its citizens.
Government actions and rhetoric in recent months have underscored the sense that after the South's fast-approaching secession on July 9, the human rights situation in northern Sudan will only deteriorate. Since January, government security forces have consistently responded to protests throughout the North with arbitrary arrests and detainments, and increasingly, torture and sexual assault. Violence in Darfur in December involved the targeting of civilians by the Sudanese army and its affiliates. (Human Rights Watch has also documented targeted attacks on civilians by Darfuri rebels, and human rights abuses by the South Sudanese army and a southern rebel group in clashes in recent months.) In a speech in December, President Bashir announced that he intends for Sudan – an ethnically and religious diverse country – to be an Islamic state with strict adherence to Sharia law and no "diversity of culture and ethnicity" after the South separates, which will only serve to exacerbate the tensions that led to unrest in the first place.
---