Will Congo's troubling rape statistics compel any change?
(Read article summary)
Although it is helpful to have reliable numbers on rape in the Democratic Republic of Congo, that doesn't change the fact that so far there's no answer on how to bring those numbers down.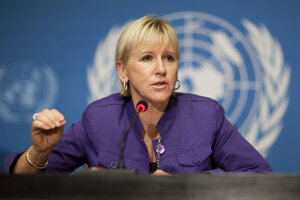 Valentin Flauraud/Reuters
Reacting to the new statistics boiled down to "four women raped every five minutes" in Congo, a few people questioned the accuracy of the findings, or suggested that "we don't need figures like this to know sexual violence is a problem." Both responses may be true. But the press pick-up of the announcement of the American Journal of Public Health's findings proves its importance, at the very least, in redirecting attention to a persistent and particularly disturbing characteristic of the long conflict in eastern Congo.
The report's authors provide the most comprehensive compilation of countrywide statistics to date on sexual violence by pulling together the findings of previous studies and then filling in gaps with results of the 2007 Demographic and Health Survey, conducted by the Congolese government with technical and financial assistance from USAID and Macro International.
---