Election in Sudan's Southern Kordofan marred by disputed results
(Read article summary)
The leading opposition party in Southern Kordofan state says that the elections that brought the ruling party's candidate to power were fraudulent and the tension could lead to renewed conflict.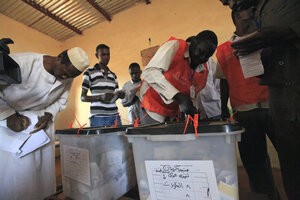 Mohamed Nureldin Abdallah/Reuters
Alleged war criminal Ahmed Haroun was announced the winner of the Southern Kordofan governor's race this past Sunday, in elections that the leading opponent party, the SPLM, has called fraudulent.
According to the National Elections Commission, the national body that is running the vote, Haroun won with 201,000 votes, over the SPLM candidate's 194,000. The ruling northern party also won more seats than the SPLM in the legislative assembly.
Though the polling period was largely peaceful, tensions between the two main parties, the NCP (which backed Haroun) and the SPLM, heightened during the counting and results period. The southern ruling party withdrew from the tabulation process last Tuesday on the grounds that a fake polling center's votes had been included in the count. When the committees tasked with aggregating the results continued their work despite the SPLM's absence, the party announced it would not recognize the election results on Friday.
"We declare that we will not recognize the elections' outcome whatsoever, and we will not participate in any legislative or executive authority produced through this vote," said Abdelaziz al-Hilu, the SPLM contender for the governor's seat. Al-Hilu also charged that the NEC is collaborating with the NCP.
---