Local election in northern Sudan deepens North-South rift
(Read article summary)
Northern Sudan's ruling party candidate won a gubernatorial election over a candidate from South Sudan's ruling party in a vote that party rejected as fraudulent.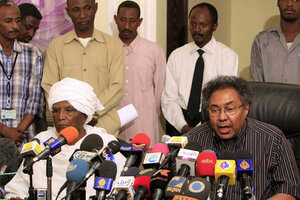 Mohamed Nureldin Abdallah/Reuters
From May 2- 4, residents of Southern Kordofan State in North Sudan voted in an election for governor. The outcome – a triumph for the ruling party candidate, and outrage among the defeated candidate's supporters – threatens to further strain relations between North and South Sudan, and also to increase political tensions in North Sudan itself.
The contest primarily involved two contenders. The first was Ahmed Haroun, a member of North Sudan's ruling National Congress Party (NCP) who served as Minister of State for Humanitarian Affairs from 2006 to 2009. In 2007, the International Criminal Court (ICC) charged Haroun with committing war crimes in Darfur and issued a warrant for his arrest. Despite this, in 2009 Haroun was appointed governor of Southern Kordofan. The second contestant was Abdelaziz al-Hilu, the state's deputy governor and a senior member of the Sudan People's Liberation Movement (SPLM), the party that controls the soon-to-be-independent country of South Sudan.
---