South Africa's ANC retains control in local elections, but grip is slipping
(Read article summary)
The ANC retained a majority, but a smaller one compared to 2006. The opposition Democratic Alliance made big inroads, particularly with non-white voters. Is South Africa creeping toward true multiparty democracy?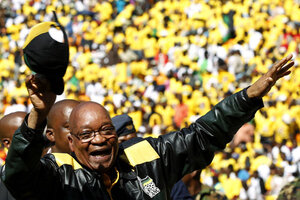 Siphiwe Sibeko/Reuters
Johannesburg, South Africa
South Africa's ruling party retained its grip, but the opposition saw major gains in the fourth local government elections since the end of the racist apartheid government in 1994.
With counts now affirmed at more than 95 percent of the country's polling stations, the African National Congress (ANC) won 63.5 percent of all votes cast, down from its 67 percent in the 2006 local elections. The second largest party, the Democratic Alliance, saw its support surge from 14 percent in 2006 to 22 percent, leaving behind hundreds of smaller parties with single or no-digit support.
South Africa's municipal elections are naturally contentious because local governments are the front lines of South African politics, deciding the officials who manage the roads and schools, allotments of free housing for the poor, and the management of other basic services.
This year's campaign was made all the more fiery by angry protests in once-stalwart ANC bastions of support over the failure of local ANC officials to deliver on their promises to expand government services like drinking water and electricity, as well as a series of scandals in local governments in Cape Town and in the Free State which had provided public toilets with no enclosures in several poor black townships.
---