Taking care of business in South Sudan
(Read article summary)
South Sudan is one of the toughest places in East Africa to do business, according to a recent report – but if you can hack it, you have a chance to make a healthy profit.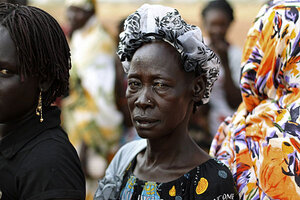 Goran Tomasevic/Reuters
For businesspeople, entrepreneurs, investors, and speculators in East Africa's own "Wild West" frontier town, setting up shop in South Sudan is generally a daunting but lucrative prospect.
A report released this past week by the International Finance Corporation and the World Bank titled "Doing Business in Juba 2011" takes stock of the pros and cons of entering the market in South Sudan, based on a research team's assessment of a number of factors: the existing business regulations, the institutional capacity of the soon-to-be-sovereign southern government, and the formal and informal taxation and credit systems.
The report presents a mixed picture, finding that the process of starting and registering a business is "fast," but expensive – "nearly twice as costly as the average in sub-Saharan Africa thanks to the high fees that must be paid to local and Juba government authorities and a myriad collection of Government of Southern Sudan ministries."
This assessment will likely prove useful for expatriate entrepreneurs hailing from the region and from Europe and North America, though the industrious and hearty truck drivers and market shopkeepers in the southern capital – mainly Ugandan and Kenyan traders – might not find the report as relevant to their daily work.
---