African Union lays siege to Al Shabab-controlled market in Somalia's capital
(Read article summary)
African Union troops aim to deny the militant Islamist group Al Shabab funds it receives from taxing shopkeepers and traders. An apparent surge of AU peacekeepers is challenging Al Shabab's tacit control of Somalia.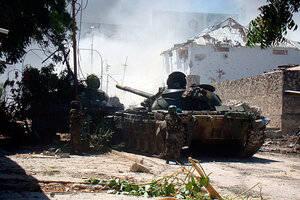 Feisal Omar/Reuters
Johannesburg, South Africa
Even in Somalia, the best way to shut down a terrorist group is to go after the money.
This morning, an African Union peacekeeping mission in Somalia is hemming in Somalia's powerful Al Shabab militia – a group that has paid allegiance to Al Qaeda – inside Somalia's largest marketplace, the Bakara Market in Mogadishu. Al Shabab taxes the shopkeepers and traders of Bakara Market, using those proceeds to fund their operations. Al Shabab also controls the busy port city of Kismayo and derives income by taxing exports and imports that come through that port.
Together with the shaky but recently trained and rearmed troops of the Transitional Federal Government of Somalia, the African Union force – made up of 5,000 Ugandan troops and 3,000 Burundian troops – has increasingly taken territory away from Al Shabab and its allies, Hizbul Islam. In a statement this morning, AU spokesman Paddy Ankunda told reporters that the AU force would not enter Bakara Market, but instead would lay siege to the market in an effort to starve out Al Shabab.
---