West Africa Rising: Ivory Coast recovering from season of violence
(Read article summary)
Alassane Ouattara was sworn in as the country's president and cocoa exports critical to the nation's economy have resumed. But the damage from the recent power struggle that claimed 3,000 lives still lingers.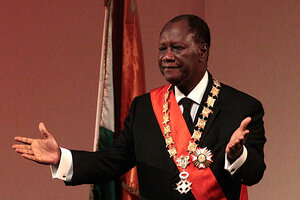 Rebecca Blackwell/AP
• West Africa Rising is a weekly look at business, investment, and development trends.
It's now been six weeks since Laurent Gbagbo, the erstwhile president of Ivory Coast, emerged in his undershirt from a bunker beneath the presidential palace in Abidjan, ending a four-month standoff that claimed 3,000 lives and ground the country's economy to a halt.
With its ports reopened and a new leader in place, Ivory Coast – once West Africa's most vibrant economy – has begun to get back on its feet. But the country has been deeply wounded by its season of violence, and the effects of the turmoil are lingering.
In a key political display on Saturday, Mr. Gbagbo's successor, Alassane Ouattara, was formally sworn in as the country's fifth president. Twenty heads of state attended the inauguration, as did United Nations Secretary-General Ban Ki-moon.
"This ceremony today is not about the victory of one side over another, but about rediscovered brotherhood and new beginnings," Mr. Ouattara told the gathered dignitaries in the capital Yamoussoukro, AP reported.
Meanwhile, nearly 200 miles away in the remote northern city of Korhogo, Gbagbo remained under house arrest in a villa guarded by UN peacekeepers and soldiers loyal to Ouattara. The former leader, who refused to relinquish his decade-long hold on the presidency after losing an election late last year, is being held for questioning over his role in the violence that gripped the country during the ensuing power struggle.
---