Is Compaore's reign in Burkina Faso coming to an end?
(Read article summary)
Burkina Faso's President Compaore is seeing new protests against his regime in Western Africa that may finally be sweeping him out of power.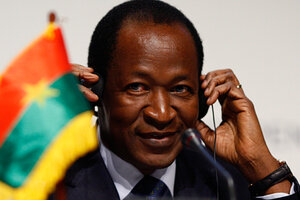 Christian Charisius/Reuters/File
In Burkina Faso, a wave of turmoil may be forcing an end to the 24-year presidency of Blaise Compaore, West Africa's longest-serving leader.
Hundreds of soldiers stationed a half-day's drive from Ouagadougou, the capital, spent last night – all last night – and parts of this morning firing their weapons into the air in a thunderous display of discontent by the army's rank and file.
That racket is hardly the first recent challenge to Mr. Compaore's reign. Since February, students have staged strikes constantly to protest a police killing of a young man. On April 14, a military mutiny by members of Compaore's presidential guard forced the leader to flee the capital.
Then there's the cotton farmers: Just yesterday, 8,000 of them commenced a no-planting boycott to protest cotton taxes.
"If this were not happening in the completely different context of the post-Arab revolutions, I would have seen it as a routine challenge to Compaore's rule, but this time around it has gained momentum," said David Zoumenou, a political analyst at South Africa's Institute for Security Studies.
Of all nations, Burkina Faso may be the most shaken by the uprisings on the other side of its Saharan front.
Once a big benefactor of Libyan largesse, Burkina's aid-dependent government finds itself suddenly unable to pay its praetorian guard.
Then there's Burkina's even more important ally: France, its former colonizer. In the context of an Arab spring, the country has little appetite to defend Compaore's bids to extend a quarter century rule, Mr. Zoumenou says.
---