Fragile stalemate emerges after fighting in Sudan's Abyei region
(Read article summary)
With the northern Sudanese military firmly in control of the disputed territory of Abyei, Abyei's residents have fled to the nearby towns of Agok and Aniet.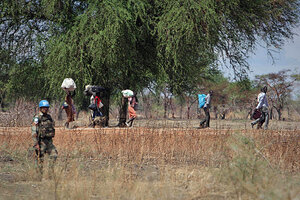 Stuart Price/UNMIS/Reuters
With Sudan's northern and southern armies facing off on either side of the River Kiir and the bridge between them all but destroyed, civilians just south are settling into a difficult new reality. So long as the Sudan Armed Forces stay in Abyei, its Ngok Dinka residents will not go home. "We reject their claims that they will bring peace to Abyei," said Abyei elder Deng Arop Kuol, the older brother of the area's top official. Displaced people from the region broadly agree.
Without the option of going home, some of those who initially fled further south are now arriving in Aniet and its neighboring town, Agok. The market that was abandoned last week is seeing some activity, though there is very little to buy; the area's main supply route comes from the north and cuts through Abyei, so no goods are coming through. Soldiers and gun-toting civilians are everywhere.
Abyei resident Rou Manyiel, a father of three, just arrived in Aniet after spending the past week in a more remote area further south, where they failed to find shelter. "The people there were very generous, but we need a place to put up," he said, noting with some embarrassment that the host community provided his family with the small meals they have had since they left Abyei on the evening SAF invaded.
The family is still sleeping outside, but now they're staying under a tree on a small plot of land where they lived when Abyei was attacked in 2008. "Our house used to be there," Mr. Manyiel said, pointing to a patch of soil with the faint footprint of a small hut. "Once I have my family settled, I will proceed to Abyei and help take back the town," he said.
---