South Sudan's army contributes to violence, confusion on the ground
(Read article summary)
The Sudan People's Liberation Army, a guerilla movement turned future national army, is struggling to make the transition and bring troops under control of the central command.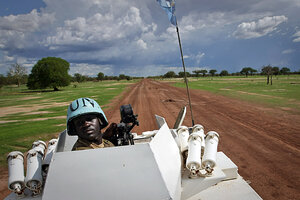 Stuart Price/UNMIS/AP
The South Sudanese army has been at the verge of war with the north's Sudan's Sudanese Armed Forces since the north invaded a contested border zone two weeks ago. Though independence looks set to become official in July, the picture on the ground here in the south is increasingly messy.
The Sudan People's Liberation Army (SPLA) is a former guerilla movement that fought a liberation struggle and civil war against the northern Sudanese government for more than two decades before signing an internationally-brokered peace deal in 2005. The deal granted the South the right to decide whether to break away from the north and form a new state.
The SPLA is not only overwhelmed by the internal and external challenges to stability within its territory, but it is also accused of violating human rights and harassing United Nations agencies and international aid groups attempting to respond to the humanitarian crisis in the fallout of northern Sudan's invasion of the border region of Abyei. The rumors are making aid groups fearful of sending convoys of fuel and food stocks to frontline areas where wounded, hungry, and generally vulnerable populations need the assistance.
The South's army officials have been frank in my recent discussions with them over the allegations against the Army here in the South.
"[Orders] reach the ground. But as anywhere in the world you will not have 100 percent discipline," Col. Philip Aguer, the SPLA spokesman, told me today in South Sudan's capital of Juba. He said that the process of both transforming a guerilla army into a conventional one and the intense challenges of integrating rebel militia forces into the army are daunting, especially at a moment when the northern army is aggressively flexing its muscles in Abyei, a territory of great strategic, historical, and emotional importance to southerners.
---