Small but positive signs of progress with Congo's 'conflict minerals'
(Read article summary)
Recent actions taken against Congo's 'conflict mineral' trade by companies and the international community signal that although progress is slow, it is happening.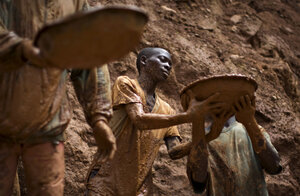 Finbarr O'Reilly/Reuters
I feel the urge every time I type the words: "conflict-minerals" to provide a disclaimer: Conflict minerals are not the real problem with the Congo, and focusing excessively on them will distract from the deeply political nature of the Congolese crisis, which lies more in the capture of the state by private interests, who see little profit (and perhaps some harm) in creating strong, accountable state institutions.
But a second urge soon follows, aimed at my friends who would like to throw the conflict-minerals baby out with the bathwater of a dumbed-down Congo hysteria. This urge is to say that minerals do form a large part of the conflict economy in the East, and are thus a significant reason for the problems in governance in the Kivus region. Ask any Kivutian: minerals matter in the Wild West of Masisi, Fizi, Shabunda or Lubero.
Having performed my ritual ablutions, I can get to the meat of this posting: Where do we stand with regard to this issue? The last few weeks have seen a flurry of activity, which Congo Siasa has been silent on due to travels and miscellanea.
First, I would like to remind readers of consultations that took place in March and were never thoroughly reported (at least to my knowledge). President Kabila and his advisors met with the key constituencies – businessmen in particular – to figure out a way forward as they were heading towards an end of the mineral export ban. While the export ban was a disaster for local communities, the recommendations coming out of these consultations made quite a bit of sense. They included:
requirements for all artisanal miners to form cooperatives and to register with the state
for comptoirs to add value to minerals prior to export through basic sorting and processing, so that the state would make more profit
making tracing and tagging supply chains mandatory for all actors involved - this would be implemented through the international industry group ITRI
---
Follow Stories Like This
Get the Monitor stories you care about delivered to your inbox.