Withdrawals, lack of pay for African Union's Somalia forces could thwart progress
(Read article summary)
The African Union Mission in Somalia has been gaining ground against Al Shabab, but threats of countries withdrawing soldiers and failure to pay others could set back that progress.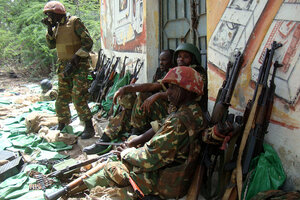 Feisal Omar/Reuters
In Somalia, the joint forces of the Transitional Federal Government (TFG) and the African Union Mission in Somalia (AMISOM) are making military progress against the Islamist rebel group al Shabab. The TFG's internal political problems, especially a dispute over election scheduling between the president and the speaker of parliament, regularly make the news. Yesterday, though, saw the appearance of several reports on problems within AMISOM. These problems, which could disrupt the force's capacity in Somalia, concern Uganda and Burundi, the two countries that supply near all ofAMISOM's troops (Uganda contributes around 5,000, Burundi around 4,000).
The Ugandan government is upset at the UN's approach to the TFG's infighting, and is threatening to withdraw its soldiers:
President Museveni yesterday warned that Uganda would withdraw its troops from Mogadishu if UN-pushed presidential and parliamentary elections in Somalia spark renewed assault by al-Shabaab militants.

"This may allow the extremists to re-organise and cause problems, and also undermine the battlefield gains we have made. We can't allow to be in that situation," he said at the ongoing 19th International Contact Group on Somalia conference in Kampala.
---
Follow Stories Like This
Get the Monitor stories you care about delivered to your inbox.