Supplies run low in Sudan's embattled border regions
(Read article summary)
Food, fuel, and water are all running dangerously low in Sudanese villages sheltering the tens of thousands of people who fled fighting around the disputed border town of Abyei.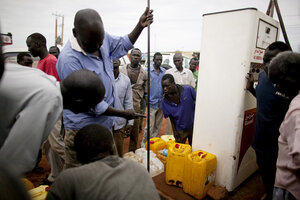 Pete Muller/AP
"Bring food. There is none here." It was prudent advice, arriving by text message in a rare patch of cell phone network coverage, as the red mud-splattered vehicle barreled north toward the area where most of the estimated 96,000 people displaced by recent fighting in the disputed area of Abyei have temporary settled.
The influx of displaced people fleeing the recent outbreak of violence in Abyei and destruction of nearby villages has placed a strain on basic goods in the small towns forming a semi-circle south of the conflict area. Many of the displaced are staying in host families and sharing their food. The rare restaurant, which serves a simple menu of meat stew, beans, and bread, regularly runs out of food. Lines at the water pumps are especially long, and bottled water is difficult to find, as are scratch cards for mobile phone airtime.
As the homes of locals in the small town of Turalei reach capacity, many people sleep and arrange their few belongings on straw or plastic mats rolled out in the shade of trees or shadow of mud and thatched huts. If rain clouds roll in, people pack in under corrugated metal awnings of storefronts or huddle under the dilapidated cover of the structures that line the town's main street, made of scrap metal, bits of wood, and tarp. As night falls, the embers of small coal-powered stoves glow along the street that is otherwise lit by an occasional light bulb powered by humming generators.
Making matters much worse, the roads from the north are closed, cutting off this area from its usual supply of essential goods – most problematically, petrol. In fact, the fuel shortage has been mounting for several weeks, now becoming dire. Prices began to rise in early May. Today, in the town of Wau, where many of the supplies for the Turalei area are coming from, a liter of gas costs $4.50 and is often hard to find, compared to $1.80 before the shortage.
---