Zimbabwe and Mugabe top the agenda at southern Africa summit
(Read article summary)
The Southern African Development Community will not call on Zimbabwe President Robert Mugabe to cede power. But by insisting on fair elections, it may push Mugabe into a corner nonetheless.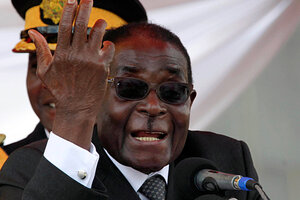 Tsvangirayi Mukwazhi/AP/File
Johannesburg, South Africa
When 14 heads of state from southern Africa gather today in Johannesburg for a full meeting of the Southern African Development Community (SADC), the ever unstable political situation in Zimbabwe will be at the top of the agenda. Activists gathered outside will likely call on the SADC to urge fellow SADC member Zimbabwe President Robert Mugabe to step down from power, just as the African Union suggested to Libyan President Muammar Qaddafi.
That won't happen, of course, but if the SADC comes up with a roadmap for holding free and fair elections in Zimbabwe next year, it may end up having the same effect due to Mr. Mugabe's dwindling domestic support.
The SADC summit on Zimbabwe will coincide with a larger summit with two other regional groupings, the Common Market for East and Southern Africa (COMESA) and the East African Community (EAC), and analysts expect leaders at this summit are likely to raise issues on fair trade and free movement of people among Africa's three regional groupings.
---