Libya's southern neighbors plan for life after Qaddafi
(Read article summary)
Bearing the brunt of the exodus of Libyan refugees, several countries in the Sahel region – including Senegal, Gambia, Mauritania, and Chad – have called on Qaddafi to step down.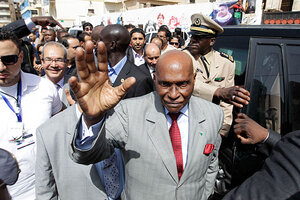 Hassan Ammar/AP
During his long rule Col. Muammar Qaddafi has exercised substantial influence over Africa. The Colonel has aided client regimes, helped bring rulers to power or ruin, and intervened in conflicts as participant or peacemaker. As this map shows, his influence has been particularly pronounced in Sahelian countries like Mali, Niger, Burkina Faso, and Chad.
The civil war in Libya has dramatically affected the Sahel: Niger and other countries are absorbing thousands of refugees, Sahelians are being accused of serving as pro-Qaddafi mercenaries, Libyan weapons have reportedly traveled south, and money flows have been disrupted or altered. Perhaps reflecting the interlinked fates of Libya and the Sahel, the latter has been well represented in the African Union's peace efforts, providing two of the five members of the African Union's committee on Libya (they are President Mohamed Ould Abdel Aziz of Mauritania, who chairs the committee, and President Amadou Toumani Toure of Mali). This AU group, at least initially, tried to broker a peace that would have allowed Mr. Qaddafi to remain in power.
---