In Senegal, religious leaders join constitutional debate
(Read article summary)
Senegal President Abdoulaye Wade abandoned his efforts to lower the electoral threshold for a presidential victory. In a 95 percent Muslim country, religious leaders can influence the debate.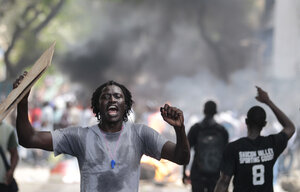 Rebecca Blackwell/AP
This week, tension mounted in Senegal as President Abdoulaye Wade moved to introduce two major constitutional changes: the creation of a vice president position and a reduction in the threshold (25 percent, instead of the previous 50 percent plus) necessary for a presidential candidate to win a first round victory. Protests broke out in major cities. Youth burned the homes of ruling party members. The European Union and the US expressed concern. Then yesterday, the day that the amendment was due for a vote in parliament, Wade withdrew the plan to change the electoral threshold.
These developments have been well covered by Reuters, the BBC, VOA, The New York Times, and other outlets. What hasn't received as much international coverage is the role of Senegal's Muslim leaders. In a country that's 95 percent Muslim, and where most of the Muslim belong to large Sufi brotherhoods legendary for their political influence (when they choose to wield it, that is), how did these leaders react to such a major political crisis?
---