Senegal suspends extradition of former Chadian dictator
(Read article summary)
Senegal yielded to UN pressure not to extradite Hissene Habre, who is wanted in Chad for human rights violations. The UN and other international groups fear he will be tortured and executed in Chad.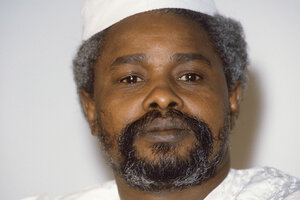 Dominique Faget/AFP/Getty Images/Newscom/File
Late last week, Senegal readied itself to extradite former Chadian dictator Hissene Habré back to his home country, where he has been sentenced to death.
For months, international organizations like the United Nations have been pressuring Senegal to act on Mr. Habré's case, and either try him there or hand him over to another court. Habré has been living in Senegal, under various indictments, since 1990.
Many feel, myself included, that Habré's case will set important precedents regarding accountability for leaders, not just in Africa but around the world. AP writes that Habré "has become a symbol of impunity."
The importance of the case increases outsiders' concerns that it be administered fairly. Hence the UN objected to the plan to send Habré back to Chad:
"I urge the Government of Senegal to review its decision and to ensure that Habré's extradition is carried out in a way that ensures his fair trial rights will be respected and he will not be subjected to torture or the death penalty," said Ms. [Navi] Pillay [the UN High Commissioner for Human Rights].

"As a party to the Convention Against Torture, Senegal may not extradite a person to a State where there are substantial grounds for believing he would be in danger of being subjected to torture. At the very least Senegal must obtain fair trial guarantees from the Government of Chad before any extradition takes place," she added.
---