UN says 'condemnation is insufficient' for atrocities in Sudan's South Kordofan
(Read article summary)
A UN report seen by the Enough Project details executions of civilians, assault of UN personnel, and forced displacement of populations, acts that may be war crimes and crimes against humanity.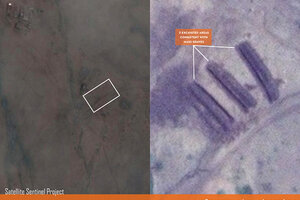 DigitalGlobe/AP
Since fighting broke out in the volatile Sudanese state of South Kordofan on June 5, accounts trickling out from the largely sealed-off war zone have attested to the Sudanese army, or SAF, and other affiliated government forces killing and committing other acts of violence against its civilians. Information out of the area continues to remain scarce and difficult to confirm.
In the most comprehensive cataloguing of gross human rights violations committed in the conflict so far, a June UNMIS (United Nations Mission in Sudan) human rights report seen by Enough provides gruesome details of brazen executions of civilians, intimidation and assault of UN personnel, and forced returns and displacement of populations, all acts that may constitute war crimes and crimes against humanity.
Many of the report's findings point to the deliberate targeting of civilians because of their political and/or ethnic affiliations. The ranks of the SPLA (Sudanese People's Liberation Army) in South Kordofan are largely filled with Nuba, and many Nuba support the SPLA's political wing, the SPLM (Sudanese People's Liberation Movement). The report documents government forces summarily executing, abducting, detaining, and abusing civilians suspected of being SPLM sympathizers, bombing densely-inhabited civilian areas, and laying land mines in known SPLM neighborhoods. The report notes that witnesses and victims say that government forces have a list of Nubans wanted for being sympathetic to the SPLM/A; another incident in the report says UN staff being detained were "shown photographs of UN national staff and requested to confirm whether they were inside UNMIS compound."
Here are excerpts from the report:
---
Follow Stories Like This
Get the Monitor stories you care about delivered to your inbox.