Congo conflict minerals bill hurts the miners it hopes to help
(Read article summary)
Guest blogger Laura Seay writes that a US ban on conflict minerals amounts to a de facto boycott of the Congolese mining industry, hurting Congo's civilians by removing a key source of income.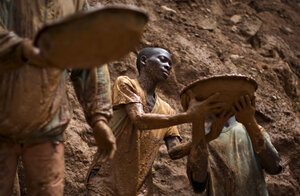 Finbarr O'Reilly/Reuters
From the Wall Street Journal's editorial page (gated), a piece on the unintended consequences of the Dodd-Frank conflict minerals provisions:
The highest price is being paid in central Africa, where millions of people, and 16% of the Congo's population, are dependent on small-time digging. By all accounts most of the money from central African mining goes to these artisanal miners. Soldiers and rebels do pocket some of the proceeds, and that's a depressing reality.

But mineral operations also provide the local population with centers of commerce, with cash to pay for supplies and workers and easily traded goods. As money from the mines becomes increasingly scarce, Congo's warlords have moved on to targeting the banana trade. Perhaps conflict-free bananas will be the next object of activist enthusiasm.

Meanwhile, the butchery continues, with recent reports of government troops raping more than 100 women and children over a three-day spree in the Congo's South Kivu region. If all the money from minerals dries up, these killers will not shy from even more atrocious means to fund their ambitions. As for Western policy makers, Section 1502 is a useful lesson in how well-meaning attempts to "do something" in Africa unintentionally harm the innocent without touching the guilty.
---